Here are some of the wonderful artists who are going to be a part of our upcoming IWD 2020 celebrations.
Drumming with Adaku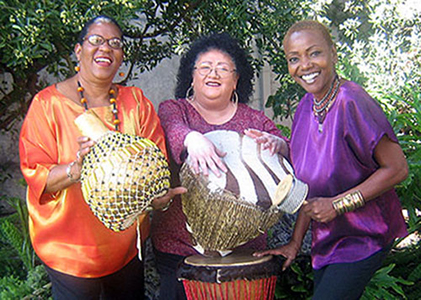 For over 30 years, Adaku and her team have blended their love for Afro-Cuban, Latin & Brazilian drum rhythms with their creative voices to speak on the particular concerns of women, cultural pride, human struggle and triumphs through poetry and performance.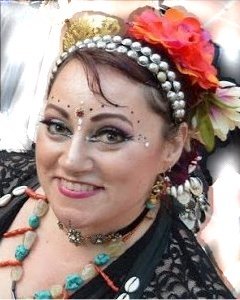 I had a life-transforming "A-ha!" while dancing in the chorus during practice at Noe Valley Ministry: I was "waiting" too much. I was waiting for the perfect time to start learning how to shimmy like "the big girls" in FCBD, and I was waiting for others in my life outside the dance studio, as well. Living in the waiting room, in fact. My inner voice said, 'Stop waiting and DO it! Life is too short to wait for the perfect time to act!' When this happened I started shimmying, and realized that I could do just about anything that I set my mind, body, and spirit to accomplish. I love sharing the potential break-through experience of belly dance with others.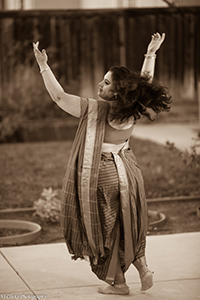 Tri Valley based Per-former, Choreographer and Teacher of the Indian Classical Dance, Bharatanatyam, Artistic Director of Ushanjali School of Dance.
Deepti Warrier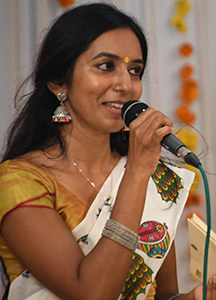 Deepti is a volunteer with SAVE and enjoys singing and teaching Indian classical and semi classical music. She will be presenting songs that speak of truth and freedom for all who stand in the shadows of injustice in our communities today. She will be accompanied on the violin by the talented Sia Puri, a middle schooler who is also an accomplished kathak dancer and also plays the Western violin. On the tabla is Anika Warrier, a freshman at American High, who is passionate about theatre and Indian classical dance. And on the keyboard, by high school Junior Advait Ranganathan, who loves playing and composing jazz and trap music.
Chao Lee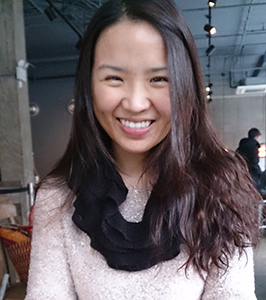 Chao is the Community Engagement Manager at SAVE. As a survivor, she strongly believes in SAVE's value of ending and preventing intimate partner violence in our community. Prior to joining SAVE, she enjoys teaching piano to children. In her free time, she loves dancing, doing yoga and meditation, and going to the beach with her 3 years old daughter.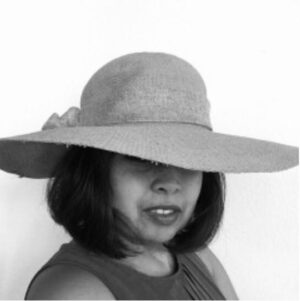 Meera Prahlad is a freelance writer, poet, community volunteer, organizer, and activist. She is especially proud of her passionate grassroots involvement with the Initiative to get a Diwali stamp issued in the U.S. – a victory that represents every Indo-American. As a poet, Meera has had the honor of reciting her poems at the San Jose Veterans' Day Parade and Opera San José's Veterans Chorus, among other occasions. Lauded for their simplicity and the message they convey, her poems have been published as messages of hope, peace and inspiration.
In addition to writing and teaching Language, she wears the hat of Director of Top Form Academy, which provides training in Business Communication and Etiquette to professionals, as well as life skills for youth.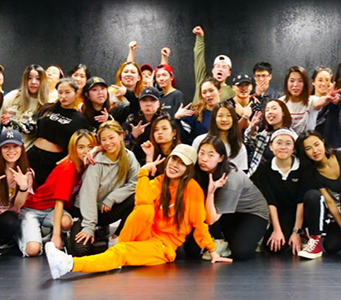 Young Reach Dance Studio is the first Asian Hip Hop studio in the San Francisco Bay Area. In September of 2019, the Sunnyvale studio officially opened. Their class includes Urban Choreography, Hip-Hop, Jazz, K-Pop, and more.
The Afghan Coalition is a non-profit community-based organization that seeks to empower refugee families, women and youth, both locally and in Afghanistan and to build bridges between the United States and Afghanistan. The mission is accomplished through the provision of community services, supporting member organizations' community based programs and fostering understanding, reconciliation, reconstruction and mutual relations between the people of Afghanistan and the people of the United States.
To attend this event, please RSVP here.
If you are interested in becoming a sponsor for this event, click here for sponsorship levels.