Past Events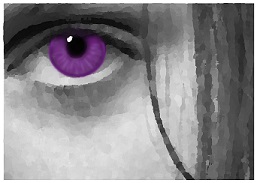 SAVE's 12th Annual Eye Opener Breakfast on Friday, September 26th from 7:30-9 am, DoubleTree by Hilton Newark/Fremont 39900 Balentine Dr., Newark, CA. For more information, including ticket, and sponsorship and advertising opportunities, please visit our Breakfast Eye Opener page.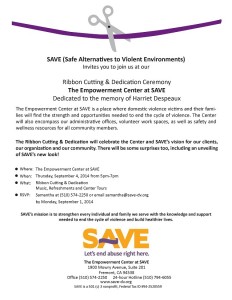 SAVE's Community Center Ribbon Cutting, Dedication & Open House on Thursday, September 4th from 5-7 pm, 1900 Mowry Avenue, Suite 201, Fremont CA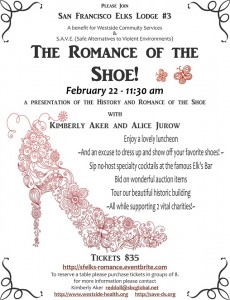 Our friends at the San Francisco Elks Lodge #3 hosted a lively and lovely presentation about the history of our favorite accessory — the shoe! We enjoyed a delicious luncheon and raffle, too. SAVE thanks the SF Elks for choosing SAVE as one of two organizations to benefit from this event.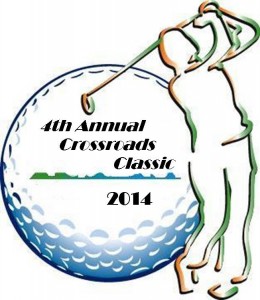 Fremont's Crossroads Church hosted their 4th annual Crossroads Classic Golf for Charity event in the Spring of 2014. We appreciate their ongoing support and thank all who attended. As before, all proceeds from this event will be donated to SAVE. Download brochure.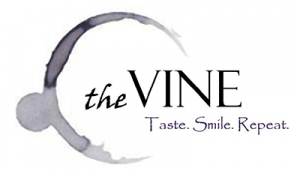 Our second Happy Hour to Empower was held Friday, May 23, 2014, at The Vine in Niles. We had an amazing time on The Vine's beautiful patio where we enjoyed complimentary appetizers, SAVE-tinis (no host bar), a raffle, giveaways, and lots of connecting. Visit SAVE's Facebook events page for more info.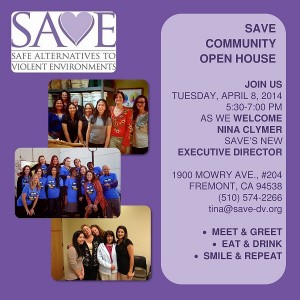 Our Community Open House was a big success! Guests to this April, 2014 event connected with SAVE staff, including our new Executive Director, Nina Clymer. We thank all who attended!
A Celebration of Women Through Fashion and Time — another fun and fashionable Elks event, this time hosted by our friends at Fremont's Elks Lodge #2121.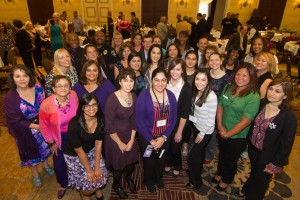 SAVE's 11th Annual Eye Opener was held in September, 2013. We appreciate all you attended and donated so generously. Thank you for supporting SAVE and those we serve!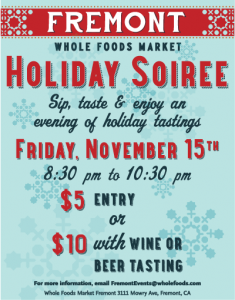 A Holiday Soiree at Whole Foods Market Fremont benefited SAVE in a big way! Attendees enjoyed an evening of holiday entrees, appetizers,and desserts throughout the store. The Canyon Band provided live music and there was dancing in the aisles! Many thanks to our friends at Whole Foods for their kindness and generosity.