Due to the Shelter in Place mandate, SAVE is postponing the Spring 2020 40 hour DV training. New training dates will be announced in the future.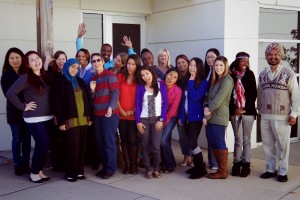 SAVE 40 hour Domestic Violence Counselor Training meets state guidelines. Completion of the training certifies you in the state of California as a Domestic Violence Counselor.  
Please note that trainees must attend 

all

sessions to receive their certification. 
For more info on our Training Session, call Jacia Mim at (510) 574-2250 ext. 107.
Why take the training?
To work with those affected by domestic violence as a SAVE direct service volunteer
To volunteer with another domestic violence organization within California
To enhance your ability to work with survivors in your current or future professional capacity
What can I do once I've taken the training?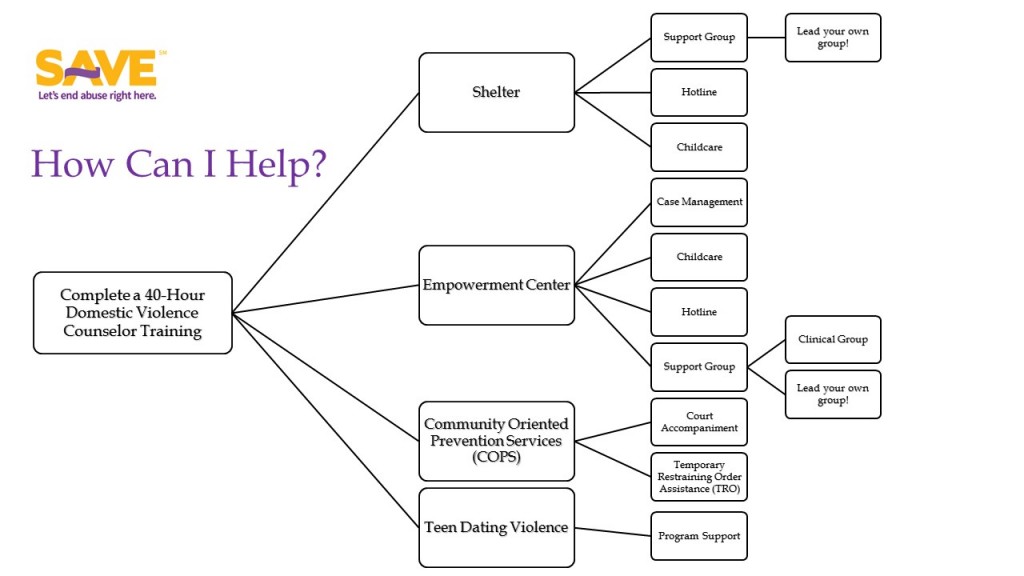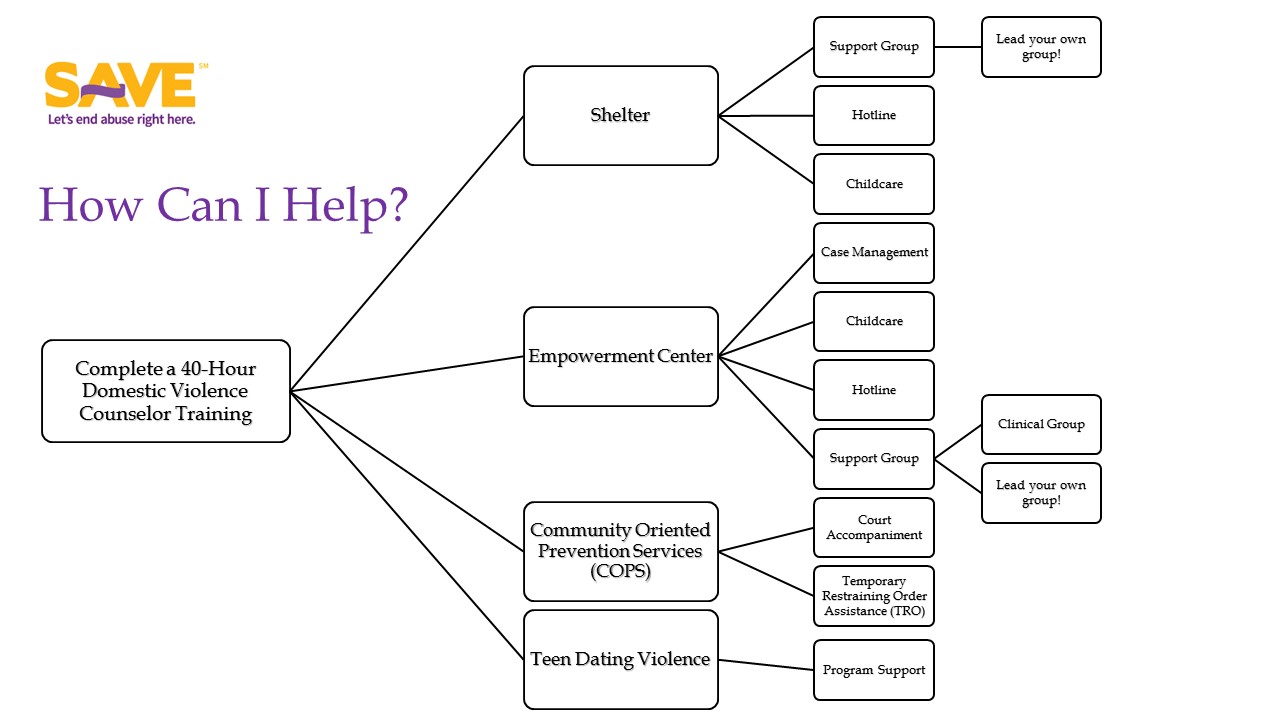 Training Topics:
This comprehensive training covers:
Overview of Domestic Violence
The History of the Domestic Violence Movement
Dynamics of Domestic Violence
Truths and Societal Attitudes
Domestic Violence in the Media
The Advocate's Role
The Counselor/Advocate Role
Self-Care
Safety Planning
Hotline Role plays
Unlearning Prejudice
Trauma Informed Care
Examining the Diverse Needs of Domestic Violence Victims
Survivors with disabilities
Teen Dating Violence
Domestic Violence in LGBTQIA+ Communities
Effects on Children
Legal Options
Restraining Orders
Civil and Family Law Issues
The Criminal Justice System
Immigration and VAWA
Victims of Crime
To Apply
Community Member Trainee:
If you wish to take the training without volunteering with SAVE, please submit the Training Registration Form. Applicants are received on a first-come, first-served basis with preference given to partner agency employees. A limited number of spaces are reserved for non-volunteer trainees. Submitting an application does not guarantee enrollment. You will be notified by email if you are accepted into the training. Please also note that SAVE accepts applications only from individuals who commit to 100 hours of volunteering.
Please do not submit payment until you receive confirmation that you have been accepted into the course.
Fee: $350 (Payment plans available)
SAVE Volunteer:
If  you wish to volunteer post-training, please submit both the Direct Client Services Application and the Training Registration Form. Select potential volunteers will be interviewed in person and will later be notified if they are accepted into the training. Submitting an application does not guarantee  enrollment.
Fee: $75 (with a commitment of 100 hours of volunteer service over a period of 6 months or longer)
Scholarship (SAVE volunteers only): Please include an explanation of need and goals post-training. Only one applicant per training session will be selected. If selected, your fee will be reduced to $50 with a 100 hour commitment over a period of 6 months or longer.
Please submit all components of your application to Shaila Dixit, SAVE's Community Engagement Manager, at shailajad@save-dv.org.