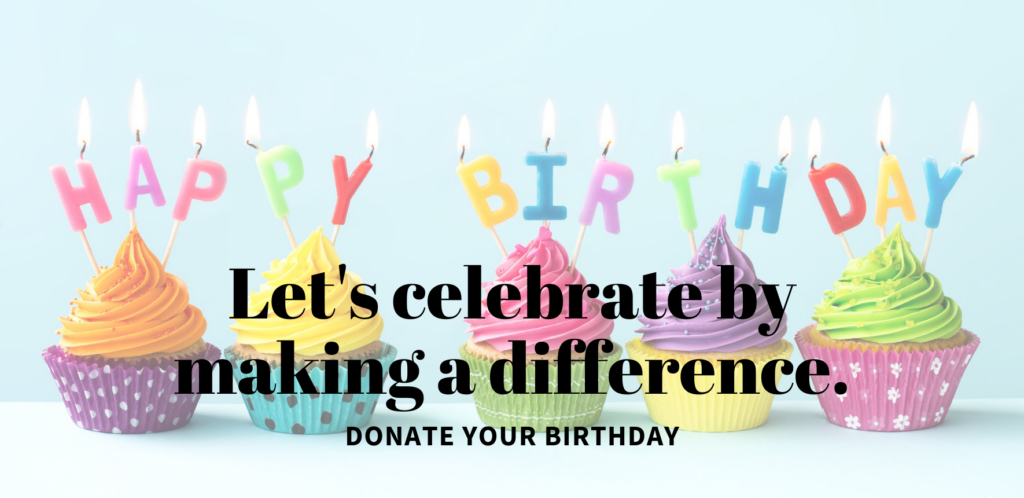 Did you know that more than 45 million people write birthday wishes to their friends on Facebook every day? If you have Facebook, most likely, you've received birthday wishes from friends and family.
To make sure that your big day is celebrated the way you want, Facebook created an option to donate your birthday. When you donate your birthday, your friends and family can give to a nonprofit of your choice!
In the past, we have greatly appreciated those who donated their birthdays to SAVE. It's super simple yet deeply impactful.
This year when that big day rolls around, will you celebrate your birthday with SAVE? Facebook Fundraising doesn't charge transaction fees so that 100% of the money raised for your birthday will go directly to us!
Here are FIVE easy steps to create your Facebook Fundraisers:
1) CLICK HERE to go to the Fundraiser page.
2) Choose SAVE (Safe Alternatives to Violent Environments) as your charity.
3) Set your fundraising goal and time-frame. We've seen many successful fundraisers at $200 or even $500 or more! Set something that you feel good about and see where it goes! You can always raise the amount if you particularly like to challenge your friends.
4) Invite people on your friends' list and engage with them! This is key. Invite, invite, invite! Share often on your timeline: remember that not everyone will see something when you post just once. While you may be hesitant to invite people on your friends' list, remember you're giving them an opportunity to participate in something great and meaningful to you. Everyone wants to give the birthday gift that the person wants. No problem if they are unable to donate at this time – you've at least extended an invitation and raise awareness for SAVE.  
5) Thank people as they donate, and watch numbers increase! These people are donating to SAVE because of YOU – because they love you, they appreciate you, they think you're amazing (and we do, too!).
Then, have fun!!
Donating your birthday is simple. Just CLICK HERE to create your birthday fundraiser today! If you have any questions during the process, please contact Chao Lee, our Development Manager, at chaol@save-dv.org.