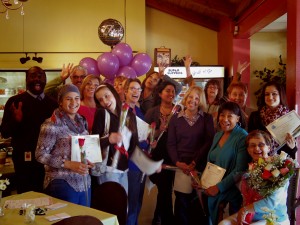 SAVE has an incredible team of volunteers who help make the work we do possible. Each year, direct service volunteers contribute approximately 2,500 hours of their time working with victims of domestic violence.  Our current direct service volunteer team is made up of 20 active members. Office interns serve nearly 600 hours a year. On average, a volunteer donates 4 – 6 hours of their time each week.
Our volunteer team reflects the diversity of the Bay Area in terms of culture, ethnicity, and age. Our volunteers speak many languages, including Tagalog, Japanese, Spanish, Urdu, Punjabi, Hindi, Farsi, and Mandarin.
SAVE Staff "High Fives" to Volunteers
What's a high five?
A high five is our way of saying thank you to one another. Anyone can give anyone a high five for doing something outstanding, helpful, or for just generally being awesome.
Stan: "Homaira Yusufi has been an outstanding volunteer. She has been very consistent in coming, even when she got a job over the holidays she made sure that she still came in on her off days. She combines the two best qualities desirable in a data person – she is fast but yet accurate. SAVE is very lucky to have Homaira as a data entry volunteer."
Thank you to all of our volunteers!