PSA Messages to Our Community During COVID-19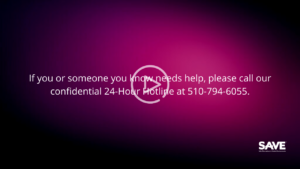 You are not alone. SAVE is here for you.
by SAVE Staff
During this difficult time when everything is unpredictable. If you or you know someone is in an intimate partner violence situation and needs to talk to a DV advocate. You are not alone. SAVE is here for you.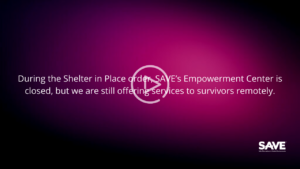 SAVE Services
by Leslie Garcia, SAVE DV Advocate
During the Shelter in Place order, our knowledgeable advocates can help you with accessing community resources, safety planning, obtaining a temporary restraining order, joining a virtual support group, and more.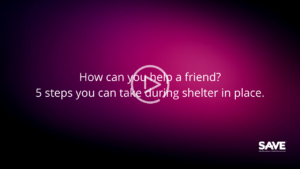 How Can You Help a Friend?
by Shailaja Dixit, SAVE DV Advocate/LIGHT Program Coordinator
The shelter in place order has dramatically increased the danger for survivors of intimate partner violence. During this time, if you think someone you know might be experiencing abuse at home, how can you help as a friend?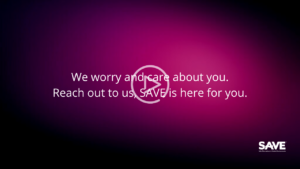 Don't Give Up!
by Annie Olea, SAVE Housing First Manager
Indefinite isolation, scarce resources, and information overload could trigger anxiety, depression, and many unchecked emotions. This is especially a difficult time for DV survivors to relive the trauma of isolation. We ask you to please reach out to a friend, co-worker, or family member to check in with their safety and support needs.