So you've learned a little about SAVE and now you want to get involved? Wonderful! We have several options and would love to hear from you.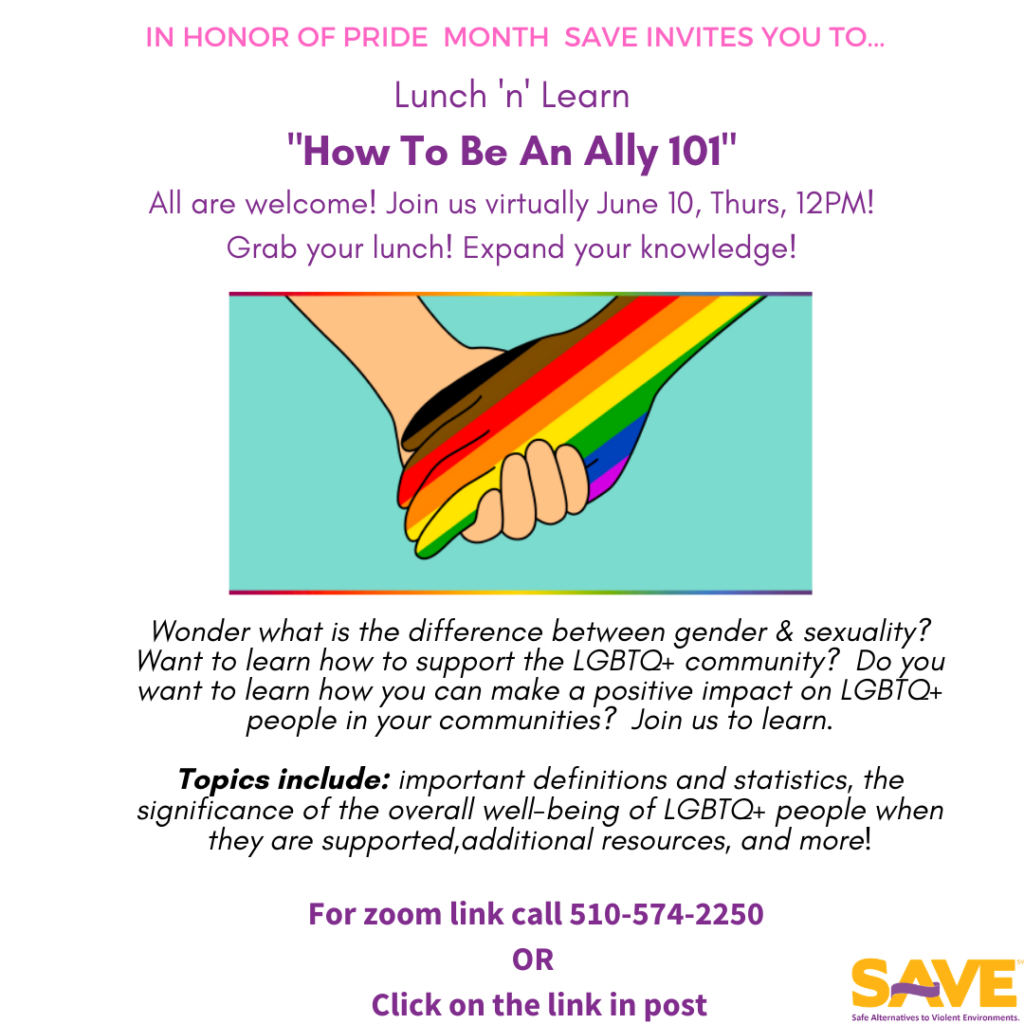 In honor of Pride Month, we want to invite you to join our "How To Be An Ally 101" virtual event on Thursday, June 10, at 12 pm. Grab your lunch and expand your knowledge on the important definitions and statistics, the difference between gender and sexuality, how to support the LGBTQ+ community, the significance of the well-being of LGBTQ+ people when they are supported, and more! Invite your friends and family to attend too! Please click here to register.
Community Volunteers
To become a community volunteer:
Submit your application to our Community Engagement Specialist,

Shaila Dixit, shailajad@save-dv.org

. You may email or fax your application to us.

You will be contacted for an in-person interview so we can discuss your skills and interests together.
You must pass a background check. Please contact Shaila for further details.
Applications
Direct Client Service Volunteer
Direct service volunteers work with our clients in a variety of settings, including our Emergency Shelter, local police departments, and the Hayward Hall of Justice.
To become a direct client service volunteer:
Complete the 40 hour Domestic Violence Counselor Training. The training can be taken through SAVE or another organization as long as the training meets state guidelines.
Have an interview with Shailaja Dixit, SAVE's Community Engagement Specialist. If accepted into the direct service volunteer program, volunteer position placement is determined by best fit for the volunteer and SAVE's immediate needs.
Pass the background check. If you have questions or concerns around passing the background check, please contact shailajad@save-dv.org.
We invest in our direct service volunteers, providing in-depth on-the-job training and a reduced rate for the 40 hour Domestic Violence Counselor Training. We value consistency for our clients, and therefore ask for no less than a 6 month commitment of 100 hours of service or more.
The availability of positions listed below are subject to change. Please check with Shailaja Dixit at (510) 574-2256 to see if the position(s) you are interested in is open to new volunteers.
Direct Service volunteer opportunities: